Uh Oh. Here we go. Another look at protesters. Warning: content disgusting and obscene so be advised before you scroll down. You've been warned.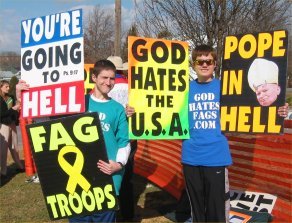 This is the Westboro Baptist Church. Their claim to fame is protesting at the funerals of dead soldiers and informing us that God hates fags. When some bikers decided to protest the WBC protesters they printed up this:
Irony alert: I wonder if these dolts recognize that their little pictogram cribs off Keith Haring; world famous art fag! ha ha!
inverted flag is a nice touch too. i didn't realize God had identified these punks as his spokesasses. I guess the pope will set them straight when they get to hell. Look at this one from Coretta Scott King's funeral:
We gotta get these punks together with:
Love the dykes from hell t-shirt. Maybe these seemingly disparate groups CAN find common ground. Kum-ba-ya!
Hey, I wonder if the Westboro Baptist Church members would be interested in purchasing this classy counter-culture shirt:
two squishy haters sittin' in a tree, k-i-s-s-i-n-g..........eat your heart out match.com! can you pick a more perfect couple?
These chunky punks think, act and look alike.
Yawn. Ho hum. These fellas look like they're giving up valuable billing time in their careers to participate in this courageous act.
This group really inspires me. It inspires me to make a ton of money and move to a private island.
Nice gentle looking souls. Just curious, Ladies, about the "war is not the answer" thing. How about to end slavery? Dolts.
I can't succeed so therefore:
Protesters are sexy as all get out, aren't they? Nice $5 latte, Chump!
Oh No! Not you, Neo!!!????!! Somebody, please pull the plug in his neck!
Here's one from the recent protests in the "Atzlan Reconquista" movement. We took your land? I feel your pain. Now get your ass back to your country (that keeps their poor poor on purpose because they WANT a servant class) and build an army and come back and see me when you have more than magic markers, poster boards and bandanas. Punk!
Tolerance Alert!!! Confusing, though. They hate Bush and the Iraqis! My head is spinning!
Give 'em time, Honey:
and finally, a protester that brings it all together....the cliffs notes protest:
Have a nice day.